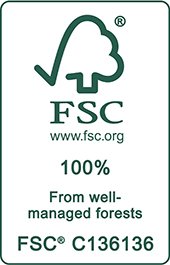 ELODENA in 2017 was certified as meeting all FSC CoC requirements
Certificate No. NC-COC-029315 detailed certificate information
FSC® (Forest Stewardship Council®) CoC (Chain of Custody) is a special type certificate in FSC certification line-up, which coordinates how manufactures have to deal with bought raw materials with FSC tag. FSC CoC certificate is a proof that company knows how to handle FSC raw and processed materials and has right to put FSC logo on their own products.
Take a look to our gallery…
PLEASE CONTACT US

WITH ALL YOU ENQUIRIES
If you have questions, you can always reach us using contacts in
Contacts Page
or just fill this simple form. We will try to answer You in 1 - 2 working days.